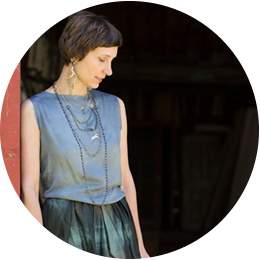 For me, the creative process is about making connections between past and present, between art and emotion, mixing styles and materials to re-imagine what is possible. I love reinventing vintage textiles, found objects, and unique components to create jewelry that is contemporary, yet has a sense of history and is environmentally friendly. I search for ethically sourced metals and stones, and tap local resources for rare and limited-edition material for each original piece of handcrafted jewelry.
I am fascinated with myths and folk stories that recount heroic adventures. These stories strive to express the mystery and complexity of the human experience and the relationships that influence and inspire us. Strong women in my life have influenced and inspired me. With a sense of humor they embrace the present, yet they have a sense of tradition; they are imaginative and a little rebellious, but still classic and timeless. They like to discover new things and see perfection in imperfection. I imagine how they want to feel when they walk into a room, and design for that moment.
My Grandma Ruth is one of my inspirations. She was an amazing seamstress. She told me stories about how, as a young woman, she would see a new couture fashion on Michigan Avenue in Chicago, and the next evening have created the dress to wear out dancing! She had an eye for style and glamour, which combined with her practicality, gave her a special flair. She always encouraged me to create what made me happy.
I love making jewelry for you, as an expression of your style to the world around you. You are unique… tell your story.